Stream Fishing
Spectacular clear-water stream fishing opportunities abound nearby Zachar Bay Lodge. Depending upon the season, all five pacific salmon species return seasonally to streams within 20 minutes of the Lodge. Dolly Varden Trout and Rainbow also follow the salmon migrations, and are often caught while targeting salmon.
Our two favorite streams provide fantastic sport fishing opportunities, and are often untouched by other sport fisherman due to their remoteness
The Frazer River (flyout + hike)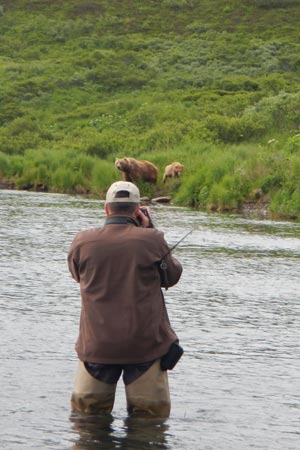 Fly-out to the Frazer River to stand among hundreds of red salmon casting a rod or tickling the water with fly to pull out your limit of five red salmon per day. This is an exclusive area given to only two lodges on the island to fish; we are one of the lodges and are allowed five people on the river daily.
The flight provides beautiful scenery and the occasional bear to view before landing at Frazer Lake. From the lake you walk about three quarter of a mile on a maintained trail to a bear viewing pad near the falls that empty out of the lake. A short break here allows you to view several bears all congregated nearby to fish picking ones that weren't lucky enough to find the fish ladder before they pounced. Then another quarter mile hike on a bear trail to the fishing hole, and you are taking in the view of more fish than can be counted as waves of fresh reds from the saltwater pass you by. Often you must cease from fishing as brown bears pass on the opposite side of the river. This is a great opportunity for a bit of photography; your friends will be amazed by your fishing companions.
The guide is trained in all aspects of fishing and keeping you a safe distance from the bears. He has all the safety equipment that may be needed to help you in this remote area. You take a break mid-morning to picnic on shore, or if the fishing is good, continue until your arm needs a break. After noon, the catch is gathered up to be carried back to the lake for your flight back to the lodge.
The Zachar River (boat + hike)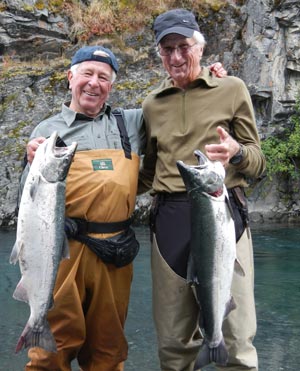 Come and experience river fishing in the bay with a short air boat ride to the Zachar River. This seventeen mile long river is fed by small lakes and snow run off. It provides spawning ground for chum, pink and silver salmon. Dolly Varden trout mingle with these salmon. The river's terrain varies greatly from grassy areas to big sand bars to a tight gorge. You are often the only fisherman on the river making this a desirable area for both casting and fly fishermen. The sandy areas give you the opportunity to really make your line dance for there is nothing behind you to get caught on. Pulling out a fish for lunch cooked over an open fire is often a highlight of the trip. It is the home of brown bear, sikta black-tailed deer, fox, river otter, seals and eagles. The experience is not one to be missed.
Uganik Lake (fly-out)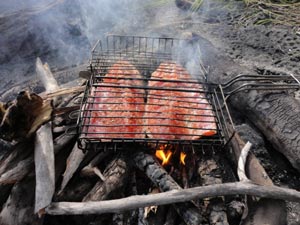 Opportunities do exits to catch rainbow trout as well as Dolly Varden trout and salmon by flying out to a local lake. Uganik Lake lays cradled between mountains, and requires no walking to get to the fishing grounds. The pilot flies you into the lake, drops you off, and you fish from the shore enjoying the view. A campfire and shore lunch adds to the laid back atmosphere.