Capture a bit on nostalgia...
If you are considering a stay at a WILDERNESS LODGE on Kodiak Island, you have landed at the right website!

Chances are that you have spent hours sorting through the websites and literature of different lodges and resorts throughout Alaska to find one that is right for you, your family and friends. If the list of lodges you were using in your research was alphabetical, we commend you for reaching the Z's and ZACHAR BAY LODGE! We may be listed last on the visitors guide list, but we are 1st in service!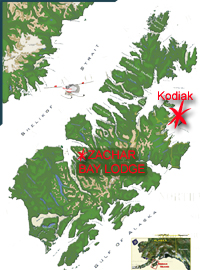 We PRIDE ourselves on providing excellent service. Our daily fishing or wildlife viewing adventures are designed to be fun, educational, safety-oriented, and to leave-no-trace on the environment.

Our guests return year after year to Zachar Bay Lodge. Why?

The answers range from the spectacular fresh and saltwater fishing adventures to the delicious food, comfortable accommodations, diversity of wildlife and, of course, the playful Kodiak Brown Bears! You can enjoy the VARIETY that Zachar Bay has to offer. Whether you enjoy fishing lakes, rivers or the ocean, we have a package that is right for you. The lodge is located in the heart of the Kodiak Island National Wildlife Refuge, 50 miles southwest of Kodiak City, only accessible by floatplane. Advance reservations are required.
Sport Fishing...
Zachar Bay Lodge offers freshwater and saltwater fishing trips to excite anglers of all ages and abilities. Whether you're a veteran deep-sea angler, a seasoned fly-fishing purist, or a total novice, the lodge has plenty to offer you.... read more
Wildlife Viewing...
Explore the diverse ecosystem within the boundaries of Zachar Bay on Kodiak Island during our guided wildlife viewing adventures. Zachar Bay is located within the confines of the 1.9 millon acres of the Kodiak National Wildlife Refuge, which was created August 19, 1941 "for the purpose of protecting the natural feeding and breeding range of the brown bears and other wildlife on Kodiak Island, Alaska." ...read more